Tape Based Recording
The wonder of affordable multi-track recording and audio cassettes gave Marianne and Hank the opportunity to record their original projects, recordings of their band Yardlight and the Big Dogs, people they enjoyed playing with, and their children. Click on the covers to see the whole J-card with the discography of those early recordings.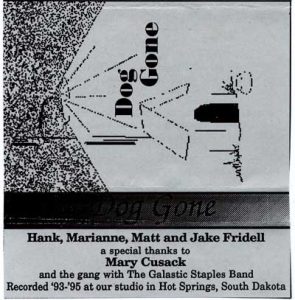 DOG GONE featured Marianne and Hank playing with Mary Cusack, a talented vocalist, penny whistler and shaker. Marianne penned Welcome to My Nightmare, Don't You Lose Hope, The Great Unknown, Look Over There, and Martin for this project. Matt Fridell played Aralia 2x Spinosa, and Matt and Jake Fridell played No Shirt No Shoes together.
Two group writing/performing projects appeared on this tape: Total Eclipse and '94 New Year's Waltz. Of interest, too, is Hank's rendition of Midnight on the Water with the sounds Sunday Gulch's waterfalls in the background. This was our last 4 track tape project and was recorded in Hot Springs, South Dakota in 1995.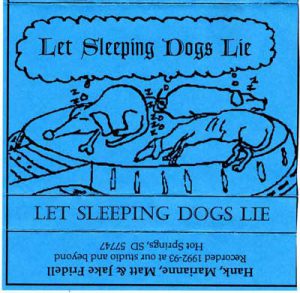 LET SLEEPING DOGS LIE was our first all Fridell effort. Marianne contributed Turn Off Your Lights, The Great Unknown, Heart of Hearts, and Still Inside. Matt Fridell contributed Season, Prosety, The Tide Rises, Spinosa (Araila), and Jenni. Jake added the original tune Dulcimer Mono, and played guitar on Sleepwalk. Matt and Hank joined forces on Grousing Around, which featured field recordings of sage and sharp tail grouse, and the voices of many friends singing with us. This was recorded in 1993 in Hot Springs, South Dakota.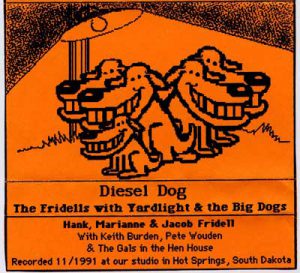 DIESEL DOG heard Yardlight and the Big Dogs, this time featuring Marianne, Hank, Keith Burden and Pete Wouden. Jake Fridell played on one song, Opus #1 in Three Parts. Marianne wrote Down By the Riverside, Hear the Voice of Love, Listening, Big Bright Moon, Angels of Light, and The Question Being Asked for this tape. Of special interest was how Marianne sang with our chickens on Listening. Hank contributed one original tune for the tape: If Tom Waits Played Bluegrass. Diesel Dog was recorded in Hot Springs, South Dakota, in 1991.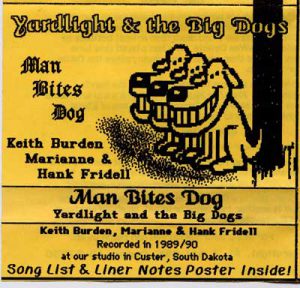 MAN BITES DOG featured another Yardlight and the Big Dogs tape with Marianne, Hank and Keith Burden. Three original songs of Marianne's were on this tape: Any Day Can Be Christmas, Years Gone By, and Moonlight is a Curative. Jake Fridell played harmonica on Red Red Robin. We also had PeeWee Dennis on the fiddle for Old Joe Clark, Bob Moore on guitar for Mr. Sandman, and Matt, June, Miguel, Josh, Aaron and Anita doing vocals on Any Day Can Be Christmas. Man Bites Dog was our first multi-track project, using our Tascam 4 track, and was recorded in Custer, South Dakota in 1990.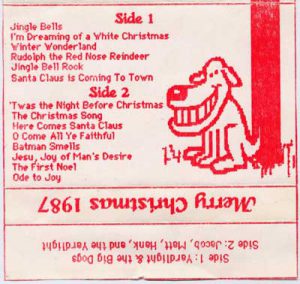 MERRY CHRISTMAS 1987 was recorded live on a two track tape deck using two microphones in our living room in Custer, South Dakota. Marianne was on keyboards, Hank was on the banjo and bass, Keith Burden was on the guitar and mandolin and Doug Anderson was on the tuba. Yardlight and the Big Dogs grew out of a sleazy western band Keith, Marianne and Hank were in called Slowpoke. Of special interest was Jacob Fridell's vocal work on Batman Smells, and Matt Fridell's sax work.