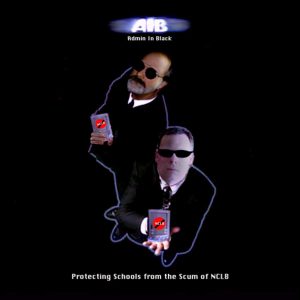 ADMIN IN BLACK (aka Rob Monson and Hank Fridell) wrote and performed original songs and parodies,  aimed at bringing truth, justice, the American Way and a little humor into the education profession.  
Disguised as Elementary School Principals, they performed regionally for public school educators.  On a mission to protect schools from the scum of No Child Left Behind (NCLB), Rob and Hank sought to bring humor and a bit of the absurd to educational conferences, meetings and workshops.

From laments about head lice, to reports from the field on state-of-the-art school lunches, you get an ear full and a laugh.  Their two CDs were AIB and The Grade from Basic Gets Steeper.